Radical plan to cut Local Gov.IT
The draft local government IT strategy has sketched out the beginning of the end for public sector IT.
It's authors may say it is merely a beginning. But these things are certain: it proposes a programme of radical and disruptive change; it is not going to be easy; and this is a taste of things to come in the long-awaited Cabinet Office ICT strategy.
There will still be IT in the public sector. But much less of it will be public.
Half of all local government IT services will be outsourced by 2015. Councils will employ few if any programmers and engineers. Public sector IT will become commoditised and delivered through the cloud. Local autonomy will largely involve IT managers picking services from a menu.
The government's Big Society reforms will be the cause of all this. Local public services will be at the "eye of the storm", warns Routemap 2015, the draft local IT strategy, which is open for consultation until 4 April. The government's "unprecedented" cuts have created a need for "unprecedented" reform. The changes to council IT will be "radical".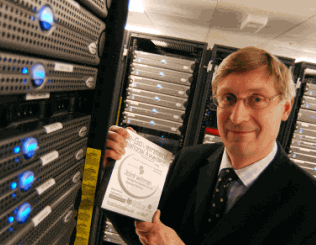 Despite all this, Jos Creese, president of Socitm, chair of the Local CIO Council and the man under whose tutelage these reforms were draughted, says these changes will be locally driven.
The key message for local IT managers, he told Computer Weekly, is "in your own time and in your own way".
The direction of travel has nevertheless been predetermined by irresistible trends on which central government cuts are a powerful catalyst. Networked citizens have high expectations of digital services. Professionals have realised that open data, open standards and transparency are incontestable requirements of the networked age. Digital innovation, joined up services, citizen-centricity and wide collaboration are all emerging quite naturally as every possible actor, from public and private entities to all kinds of people, are thrust into ever greater immediacy by the internet.
What is happening to local government is a form of coagulation. But it is happening slowly. It relies on internet infrastructure, so it must wait until local authorities have finished building their bits of the Public Sector Network, and the public sector as a whole has established a competent way of formulating open standards of interoperability.
Creese and the Society of IT Managers make much of how inappropriate it would be for the government drive all this through as a central IT programme. Creese says the past failure of government IT projects can be attributed to their being "too centrally driven". But Routemap 2015 is a centrally-driven policy that recommends central bodies be established to oversee the centralisation of local IT services.
Centralish
Yes, says Creese from his Hampshire CIO office during a rare slot between meetings, its not like any sort of centralisation we've had before.
"If we get this right," he says, "you will end up with the PSN being a national network of networks. You will get a whole range of private clouds that begin to link together. If appropriate, they will join bigger and more centralised entities.
"But you will get there on a more organic and therefore more enduring basis than simply trying to drive it all on a theoretic basis from the centre," he says.
Bottom up centralisation, you might say. One that will involve dismantling much of the public sector, which is what Routemap 2015 proposes for local IT departments. This is not necessarily a condition of a networked society in which public and private entities operate in closer union, glued together by open data and an assumed civic spirit.
Creese says, therefore, local IT departments might need an incentive to get with the programme. Cuts in central government funding are the primary incentive. They're centrally driven. And dreadfully untheoretical.
Fairish
Then there are the "outcomes", or targets, of this reform programme. They set Routemap 2015's idealistic incentive: "Efficiency and fairness".
Whatever happened to equality? This principle must be more important than ever now huge chunks of local government are being privatized. What will preserve the balance between public service and private profit?
This isn't about "grand plans to make a world a better place", says Creese. It's about being practical. It's about using technology to get things done. IT-enabled change. Putting the citizen in control.
"That's what this is about.
"We want to strike a balance between something that is prescriptive and something that is so esoteric it is purely setting a context and not adding anything directly usable to the debate," he says.
No airy-fairy words like equality then. What we have are "efficiency", the local corollary of central cuts, and "fairness", a Conservative election mantra. While the reforms are often given a veneer that makes them seem apolitical they are driven by policy that is as grandly and theoretically Conservative as a country title.
How IT enabled-change can be fair without ensuring equality is not a concern of these reforms. Now IT is not merely the department at the end of the corridor but the enabler of the Big Society, someone may have to pay some thought to the higher ideals.