Oxford trust appoints Cerner-literate CEO
Sir Jonathan Michael, managing director of BT Health, is joining the Oxford Radcliffe Hospitals NHS Trust as Chief Executive from April.
The trust is due to implement the Cerner Millennium Care Records Service next year.
Sir Jonathan is a long-standing supporter of NHS Connecting for Health, but a perceptive critic of aspects of the NPfIT. He said in March 2006 that the one-size-fits-all approach doesn't fit or, if it does, constrains managers' ability to run the business flexibly.

Download this free guide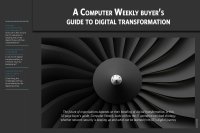 Computer Weekly's buyer's guide to digital transformation
Download this 14 page buyer's guide to discover how the IT operation can lead strategy, whether network security is keeping up and what can be learned from GE's digital journey.
"The idea that the requirements for all hospitals are the same is, I think, simplistic. Flexibility is designed out of solutions and out of the implementation process. So standardisation of IT systems effectively dictates the standardisation of the business model," he said.


From Tola Sargeant, writing for today's Techmarketview:
"We've just spotted news that managing director of BT Health [Sir Jonathan Michael], is to join the Oxford Radcliffe Hospitals NHS Trust as Chief Executive from April.
"Sir Jonathan has led BT's Health division since June 2007 when he took on responsibility for the NHS 'data spine' and London local service provider contracts under the National Programme for IT in the NHS. BT's Patrick O'Connell, will resume the role of MD for BT Health in addition to his post as president of the Major Programme Practice.
"Sir Jonathan's move back to the NHS follows a similar decision by Tim Smart, formerly CEO of BT Global Services UK, who became CEO of King's College Hospital NHS Foundation Trust in 2008.
"It seems the NHS increasingly values private sector experience in its chief executives, and the fact that they have firsthand knowledge of Cerner implementations from their time at BT is an added bonus (Oxford Radcliffe is due to implement Cerner's Millennium software in 2010).
Sir Jonathan, however, is no stranger to working for the NHS – originally a consultant physician and nephrologist he went on to become CE of University Hospitals Birmingham NHS Trust and then Guy's and St Thomas' in London."
Links:
NHS plan is evolving but one-size-fits-all is a fundamental flaw, says hospital chief – ComputerWeekly.com
BT Health boss goes back to the NHS – Techmarketview
Labour's worst IT disasters – Silicom.com