What to expect from PentahoWorld 2015
This time last year the Computer Weekly Open Source Insider blog reported on the inaugural PentahoWorld 2014 conference and exhibition.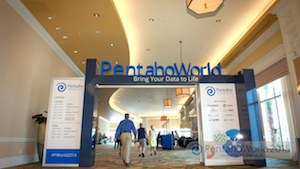 As many will already know, Pentaho is an open source data integration and analytics company with a special penchant for data-driven intelligence, data warehouse refinery controls and data streamlining i.e. data goes on a journey, so let's be aware of that element.
Data on a journey
As I have written elsewhere, sometimes data is stored, sometimes data in analysed in greater depth, or sometimes it is just passed along to the next node in the distributed data supply chain. Hitachi's move to snag Pentaho is something of an affirmation of the need for these 'data machining processes'.
It has been a busy 12 months for the firm — getting bought by Hitachi Data Systems (HDS) doesn't happen without a couple of bumps, but (on the face of it so far) it appears that a) the users are being well looked after and b) the Pentaho name is being held intact inside the parent firm as an HDS brand.
The promise from Pentaho is as follows — attendees can learn more about the acquisition by HDS and the positive impact for users.
"Attend the Social Innovation breakout track presented by HDS to learn about the new solutions that will drive value in a world dominated by the Internet of Things," says Pentaho.
Onward to PentahoWorld 2015 and we see the firm staging event #2 once again in its home state of Florida with roughly the same kind of audience composition:
• 75% developers
• 25% business decision makers for data and analytics
Extra developer love
The only thing is… this year there's extra developer love with a new track called Developers By Developers.
This is a chance for programmers to have technical 'how-to' questions answered by the actual team that developed the products.
"Learn first hand from key Pentaho developers about customization, development best-practices and pro-tips, the latest techniques and sources for blending, next-generation plug-in development and more (can you think of anything more? Let us help!)," asks the firm.
Attendees can also expect some clarity on the Pentaho roadmap and what we can expect in Pentaho 6.0 and beyond.
Chief product officer Chris Dziekan will present the firm's three-year roadmap that supports big industry trends and the Pentaho vision will be laid out by Quentin Gallivan, the firm's chief executive officer.
Which verticals?
Pentaho says customers across industries – Automotive, Aviation, Maritime, Oil & Gas and Telecommunications are using its platform to perform data-driven software application creation (these customers include: Halliburton Landmark, IMS and KDS).
The company will also use the event to talk about a new report titled "Delivering Governed Data For Analytics At Scale" — selected "findings" include:
◦ 52% of firms blend together 50 or more distinct data sources to enable analytics capabilities.
◦ 34% blend 100 or more data sources, and 12% blend 1,000 or more.
◦ More than 60% of survey respondents rated data quality, as well as security and privacy, as very important aspects of data governance.
◦ Data quality, security, and privacy are paramount in governance.
◦ Different types of data require different levels of governance. Data professionals recognize that all data is not created equal.
You want one fact more fact about PentahoWorld 2015? The hotel has a 'lazy river' again… oh, okay, I'm sold.