SAP auf SUSE Linux ist Über-scalable, ja?
Open source software company SUSE has chosen this week of all weeks to announce the availability of the newest SUSE Linux Enterprise Server for SAP Applications software, based on SUSE Linux Enterprise 11 Service Pack 3.
This week also happens to be SAP TechEd 2013, so, wild coincidence?
No of course not, the German rooted companies are breaking bread (dunking pretzels in mustard maybe?) this week over a promise to be able to "scale-up and scale-out" options to run workloads.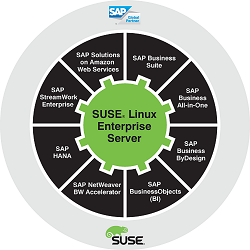 SUSE VP Michael Miller explains that his firm has brought forward support for the latest industry-standard hardware and other enhancements including RAS features
NOTE: RAS (standing for reliability, availability and serviceability) features in Intel Xeon include areas such as CPU and memory off-lining.
SUSE Linux Enterprise Server 11 Service Pack 3 enhancements include support for the SAP software provisioning manager, plus also support for the SAP Business One application version for the HANA platform to provide "simple steps to a tailored appliance" (so says SUSE) with less time spent on installation, setup and configuration, ensuring a ready-to-connect delivery.
There's also better scale-out options with storage, file system and networking enhancements.
You want enhanced clustering capabilities such as faster IP load balancing or connection tracking to meet the most stringent service-level agreement? Yes that's in there too.
Zeit für eine andere Deutsch Technologie-Partnerschaft dann!