Microsoft Visual Studio Code expands Redmond cross platform muscle
Microsoft continues its journey towards becoming 'arguably more interesting than it used to be' this week at its Build 2015 developer-centric conference and exhibition in San Francisco.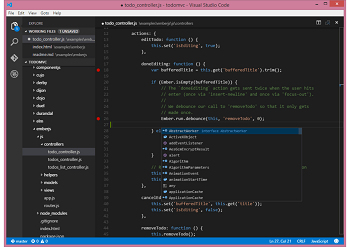 The firm's open source credentials will now see its Visual Studio software application development toolset expanded to embrace platforms outside of Windows.
Within the Visual Studio family we now find Visual Studio Code, this is essentially Visual Studio tools in a flavour that runs NOT ONLY on Windows BUT ALSO on Linux and Apple OS X.
"Microsoft has bold ambitions for platforms that empower developers across Windows, Azure and Office," said Satya Nadella, CEO of Microsoft. "Together, we will create more personal and more intelligent experiences that empower billions of people to achieve more."
Microsoft says … build and debug modern web and cloud applications. Code is free and available on your favourite platform – Linux, Mac OSX and Windows.
NOTE: Redmond even listed Windows last there, who'd a thunk it?
Microsoft's Scott Guthrie (exec VP of cloud and enterprise) has called the new Visual Studio Code product a lightweight code-optimised editor.
It is also known to be a lightweight, fast, keyboard-centric tool.
The official line is that it is code editing redefined and optimised for building and debugging modern web and cloud applications.
Also here developers will find support for building ASP.NET 5 and Node.js applications, support for all programming languages (30+ languages and counting says Microsoft), intelligent code authoring and navigation… plus integrated "in-editor" debugging and Git support.
What also comes to the party here with Visual Studio Code is full IntelliSense – this is essentially capability for code completion and formatting i.e. extremely useful.
NOTE: IntelliSense is the general term for a number of features: List Members, Parameter Info, Quick Info, and Complete Word. These features help developers to learn more about the code you are using, keep track of the parameters you are typing, and add calls to properties and methods with only a few keystrokes.
The actual downloads of Visual Studio Code will be available here.