Does HP have the stomach to digest Eucalyptus?
Eucalyptus is known for its Amazon Web Services compatible open source private cloud software.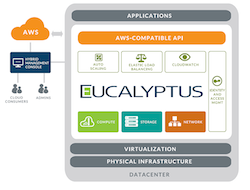 The company's cloud software is intended to coalesce compute, network and storage resources within to create on-demand (self-service) private cloud resources.
Eucalyptus CEO Marten Mickos is lined up for a "VeeP" position in HP's cloud business.
He will join HP as senior vice president and general manager of the cloud business, reporting to Meg Whitman, chairman, president and chief executive officer of HP.
Is anything fishy here?
Well Mickos undertook something of a turncoat action by saying how much he liked OpenStack after previously deriding the project as nothing more than a failure from the start.
Commentators have so far not been "wholly" complementary about the deal; Eucalyptus is not the only open cloud player to have been derided for losing its way recently.
The world of open cloud is unsettled and disquieted — and HP's recent track record in acquisitions is another subject altogether.
Regardless of the naysayers then — Martin Fink, who currently leads HP's Cloud business, will remain in his roles as chief technology officer of HP and director of HP Labs.
"We've said before that we believe the future of the Cloud is open source, and this transaction underscores our deep commitment to helping customers build enterprise-class, open clouds their way," said Fink.
"We've already seen significant momentum since launching HP Helion and have put in place an outstanding team. I'm confident that Marten, a fellow open source devotee, will continue to build out the HP Helion portfolio into the enterprise cloud offering of choice."
HP expects the acquisition to close in the fourth quarter of its fiscal year 2014. Terms of the deal were not disclosed.