Introducing our new networks blogger, Steve "Blogger" Broadhead...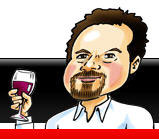 Since the departure of John-Paul Kamath for pastures new, we've been searching for a new blogger with the expertise to take on the networks generation… And now, we've found him: Steve Broadhead.
Some of you may recognise the name on the back of several previous appearances in Computer Weekly and might wonder why on Earth he's been allowed to start a blog… Well, Steve claims he has several points in his favour:
a) He's from Yorkshire and therefore demands the right to shout his mouth off and get away with it (watch out Clarkson)…
b) He knows what a punch card machine is and how to use it…
c) He remembers finding Snake on the BBC Model A quite exciting…
d) Likewise Load-Balancing at Layer 7…
e) He knows a man who did get fired for buying IBM…
f) He knows a lot of people who used to work for Cisco – and some who still do…
g) He has sampled a lot of wine, and written a book about it (along with fellow computer hack, Jim Hayes). Amazon might even still have a few copies in stock, and Christmas is just around the corner (Ed: enough).
h) Sometimes, he actually knows what he's talking about.