Sneak preview of London Olympics 2012 IT testing lab
I was at the IT testing lab for the London Olympics IT yesterday.
Former Olympic track champion Sebastian Coe and Olympics CIO Gerry Pennell got the testing started, which will go on for an estimated 200,000 hours.
Here are a few pictures of the 2,000 square metre lab in Canary Wharf. Ok they are just a fifty odd individual cells of computers, but these are the computers that are going to run the Olympics in London next year. Each cell runs a spoorting event.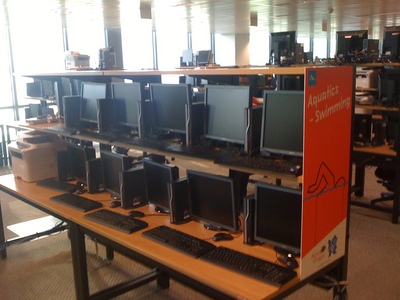 The 2000 squre metre lab contains:
70 staff at peak
880 PCs
130 servers
110 network switches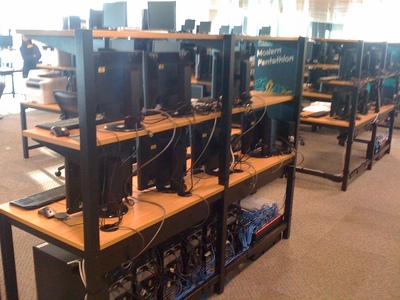 Everything is outsourced:
Atos Origin, which is the lead IT partner, first became involved in Olympic IT in 1992 and by the 2004 Olympic games it was the main partner. It is already planning for the Olympics in Rio de Janeiro, Brazil, in 2016.
CIO Pennell has the task of managing and integrating the contribution of multiple suppliers, with support from Atos Origin. He said he is used to managing multiple outsourced service providers, because that is the model that his previous employer, CFS, uses, he says.
Who is doing what?
Atos Origin – applications and technology integration
Omega – Timing and scoring systems
BT – fixed network, mobile network and telephony
Cisco – Network infrastructure
Airwave – Radio systems provider
Panasonic – Audio visual, TV and video
Samsung – Mobile communications equipment
Acer – Computers