Is the recession and utility computing driving outsourcing renegotiations?
Or is it just a case of getting a lower price?
After numerous conversations about the subject recently I am writing a feature about renegotiating IT outsourcing contracts.
The recession and multi-sourcing alongside new ways of providing IT services, such as cloud computing with pay as you go commercials, are reasons why a business might want to renegotiate IT outsourcing contracts.

Download this free guide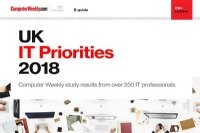 2018 UK IT Priorities survey results
IT organisations in the UK and across Europe are starting to accelerate the move to the cloud. Read more about the key areas in which senior IT managers are planning to invest in over the next 12 months.
Robert Morgan, director at sourcing consultancy Burnt-Oak Partners says there has been an increase in renegotiations of over 50%.
He says, "It is open season from clients who are approaching an end of contract or merely because they feel that they can extract a better price from the market – and they can. Service providers are taking small losses in order to protect their existing accounts and avoid new presales costs."
But I was wondering what factors are driving people to renegotiate IT outsourcing contracts. Or whether people actually agree there is a trend?
Mark Lewis, head of outsourcing at law firm Berwin Leighton Paisner says he is not seeing many renegotiations in the private sector but adds that contractual windows are the time when businesses look to change things to lower costs.
If you have any views on this please leave a comment and I will try to use it in ten feature I am writing for Computer weekly.
Also does anybody have any advice on how to renegotiate IT outsourcing contracts?