What I learnt at CES Las Vegas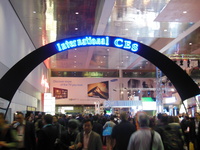 Spending a week in Sin City for the Consumer Electronics Show (CES) was surreal and exhausting. It never sleeps, and as a technology journalist in Las Vegas covering the biggest tech show of the year – neither do you.
So CES is over and now that I'm no longer jet lagged -proven by being able to make a cup of tea this morning, without adding coffee – I thought I'd piece together five lessons learnt from a week under the neon lights:
Boundaries of the phabet are getting smaller and smaller. Phones are progressing to 6-inch screens, like the

Huwaei Ascend Mate

which was launched at the show. While tablets are also shrinking to 7-inches, where will the line be? I'm guessing we will find out at Mobile World Congress in February.

Start-ups are way more interesting than the big players. Why spend hours queuing for the Samsung press event, which is basically just a glorified press release, when you can spend your time getting lost at the Eureka Park in the Venetian, chatting to start-ups? Much more interesting discovering something new and tangible than the massive big companies launching yet another degree of clarity for the television set.

Massive SLR cameras and wheely bags should be banned from press scrums; unless you can remember you manners and not punch me in the face with your oversize camera, or PICK UP your tiny bag to avoid people tripping over it. Seriously, tripped over twice and my Welsh roots failed to help me rugby tackle journalists who thought that the possibility of breaking Lenovo's newest table pc two seconds before its major competitor was worth bruising me in the face for.

Sparkly iPhone cases. This is consumerism at its highest. Almost blinded me as much as the gambling machines at the casinos, if I see another pink diamante piece of plastic, even this Disney Princess might throw up.

Smoke and electric shocks. All that static built up from walking miles over carpeted floors has to discharge somewhere, when you open a door to a hotel you tend to get little shocks, which surprised me and soon got quite annoying. Also smoking isn't against the law in the city, combine that with the air con, jet lag and late nights and expect to have very uncomfortable eyeballs unable to withstand contact lenses.
Well there you have it. Great week all around and CES, hopefully see you next year!
W