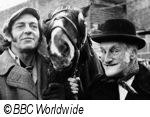 Following the success of an initiative to collect unwanted electrical goods from homes in Aldershot, Farnborough and Guildford late last autumn, it seems the days of Steptoe & Son are being reborn. As gadgets and batteries become part of the throw-away society disposal can be a problem but the EC's Waste Electrical and Electronic Equipment (WEEE) directive is seeing positive action in the responsible disposal of Information and Communications Technologies (ICT).
Aldershot-based recycler Midex is launching a free national household collection service. The WEEEcollect.IT service collects dead batteries, TVs, phones, computers, printers and just about everything that uses electricity, except fridges and freezers, for total, secure destruction.
The company intends to give every home in major towns and cities advance notification of when to expect the arrival of a WEEECollect.IT van. Midex MD Chris Spooner commented, "We have been absolutely bowled over by the response we have been receiving from the public. It's incredible to see people standing outside waiting for the arrival of our van. It's rather like being the original rag and bone man."
Under the WEEE directive consumers are being encouraged to throw away electrical items in an environmentally-friendly manner. Local civic amenity sites will accept WEEE items but there is a possibility that data-carrying items may not be destroyed. Midex promises to shred electrical equipment into 25mm squares making it safe from hackers and identity theft.