Video: Sony X series laptop review - seXy but eXpensive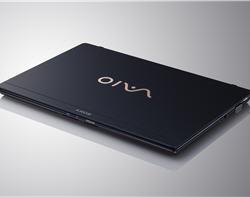 The Sony X series has a love it / hate it tag.It's jaw dropping beauty is enough for some but others point to the fact that it's over-priced compared to other laptops in the same price range. I will put the £1,000 – £1,300 price tag to one side for the moment and come back to it in the verdict.
Hardware and aesthetics
Let's start with the fact that this is one of the thinnest laptops in the world at just 13.9mm and weighs around 700 grams. An amazing feat for any laptop regardless of the specifications. But it's the specifications that make the price tag seem overblown.
The X series is powered by either a 1.86GHz Intel Atom Z540 or a 2.0GHz Z550 backed up by 2GB RAM which is good but definitely not great if you're looking for a high-powered VAIO.
The keyboard is small but surprisingly quite comfortable after a few hours use. The keys are not too low and are well spaced, I certainly did not find too much difficulty in typing up reports despite the reduced size.
The touchpad is slightly disappointing in that it's quite small. Looking that the laptop you can't help but feel this could be a bit bigger and it has no multi-touch support.
As you'd expect Wi-Fi and Bluetooth are included, graphics are powered by an Intel GMA 500 chip and the review model we received has a 160GB hard drive though you can get up to 256GB on more expensive models.
Surprisingly, there's no HDMI but it does have two USB ports, a memory card reader, a headphone/microphone jack, a Gigabit Ethernet port and a VGA port for video.
Aesthetics and battery
I doubt you will be able to find a laptop this small with such a fantastic display. The 11.1 inch LED backlight screen has a resolution of 1366 x 768. While this is not out of this world, you find yourself extremely impressed with how sharp the display is and how lively the colours are.
We were told that the X series has up to 14 hours battery life and while we found that it lasted far longer than most laptops, we were unable to test it. I'll agree it must have stayed on for over double figures while in our office so I'll give Sony the benefit of teh doubt.
Verdict
While the Sony VAIO X series certainly puts the Apple Macbook Air to shame, it's still lacking the X Factor. As I said in the beginning of this review that it was a love/hate relationship, I love it but I hate the price.
I like to think of it as a celebrity girlfriend, you'd look good and get attention walking around with her but it's not worth the price tag and hassle.
The look and feel of the X series would make me a proud owner and would add a certain slickness to my tech wardrobe, but the bottom line is 'money can't buy me love'.