Video: Motorola Xoom hands-on and specifications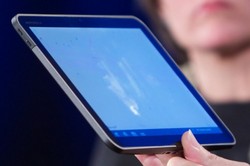 The Motorola Xoom boasts a 10.1 inch screen at 1280 x 800 resolution, 5 megapixel camera, 720p video recording and 1080p video playback powered by a 1GHz dual-core Tegra 2 processor.
Connectivity is good too with 802.11n WiFi, Bluetooth 2.1 + EDR, and packs a 32GB hard disk with a very nice 10 hour battery life.
If that's not enough the fact that it will be compatible with 4G internet (not currently available in the UK) surely makes this the best tablet around at the moment.
All that plus the fact that it comes with Honeycomb, wowee.
Honeycomb will also include Google Maps 5 with 3D interactions and offline reliability, access to over 3 million Google eBooks, and Google Talk, which now allows you to video and voice chat with any other Google Talk enabled device (PC, tablet, etc).