Skyla puts scanning in the frame
A digital picture frame is fine but what do you do if your beloved print is on paper? Scan it in to your PC and then download it. No more. Well, not from the end of April. Buy Skyla's Memoir FS80 frame and you can cut out the middle stage.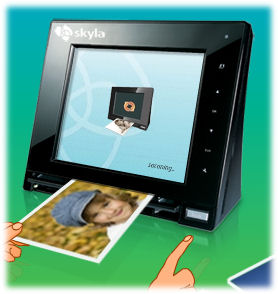 Skyla is Lite-On IT's new consumer product brand and the first product is this scanning digital photo frame. The scanned-in images can be mixed with digitally-sourced files and displayed on an eight inch screen. The scans can also be moved to a PC for storage.
Memoir has 1GB for storing up to 200 prints measuring 10cm x 15cm (4in x 6in) at 600dpi and the display screen is 800 x 600 pixels. It takes CF, SD, MS, MMC and xD cards as well as having a thumb drive port and a mini USB PC connection socket. No WiFi, however. The scanner takes a maximum print size of 10cm x 15cm which is a pity if you always opted for 13cm x 17cm (5in x 7in).
The Memoir FS80 will cost around £178.