Samsung edges ahead with the Galaxy S6
Do Samsung's cutting-edge edges give it the edge?
After a
disappointing run of results
for its mobile division driven in part by indifferent response to recent product launches, Samsung needed to make a bold statement. 'Innovate, don't iterate', came the cry, 'but please, no more of those cheap plastic and leatherette backs, okay?'.
The Samsung Galaxy S6 edge is that bold statement.
Inevitably, the big draw is the display, the smooth edges of the rich 5.1-inch Quad HD screen lapping decadently around both sides of the handset's sharp metallic chassis.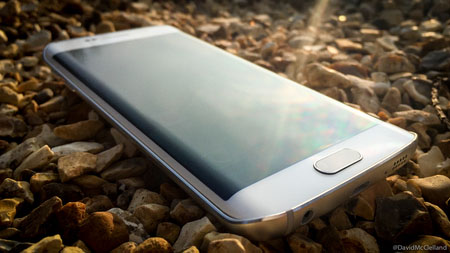 The aesthetic is without doubt one of beauty – Samsung has stolen the Android industrial design crown from an HTC now falling into its own samey design trap. Build quality feels excellent, with Gorilla Glass 4 protecting both front and rear – that's right, Samsung has turned its back on the plastic back and, frankly, good riddance.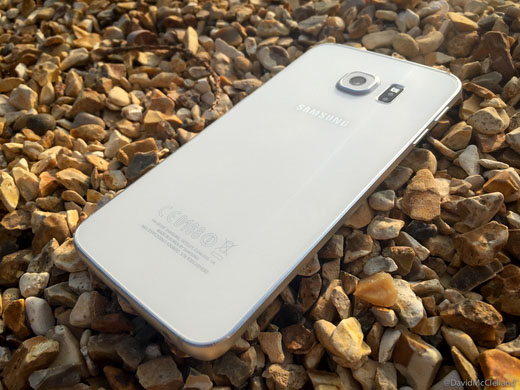 However, the function and practical benefit of the handset's key point of difference is somewhat less clear, leading many to ask: what is the point of the edge?
Truth be known, not a lot. In fact there's the inescapable smell of software features that have been built around the edges simply to justify their inclusion. People Edge does bring updates from friends a touch closer, and the edge notifications are well presented if clumsily executed.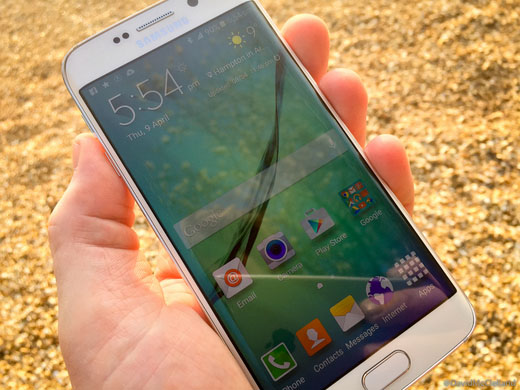 However, many of these edge functions are fundamentally foiled by the revelation that the display's edges don't curve far enough around the phone's body to be able to read content side on.
Unlike the lop-sided
Galaxy Note Edge
revealed last September, so subtle is the curve here that when the phone is face down you can barely perceive the edge. At nighttime the edge promises a discrete alarm clock, and indeed in an otherwise dark room there is usefulness here face up or face down, but forget any ideas about reading notifications on that edge alone.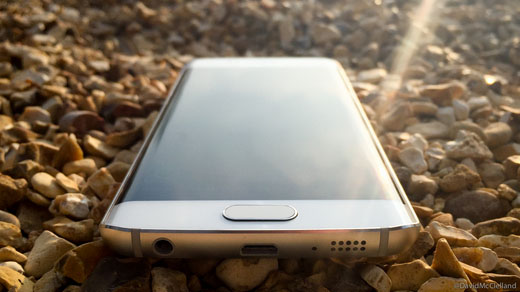 Beneath the edge, the hardware stacks up well. First of all it's nippy: Samsung has eschewed the hot-to-handle Qualcomm Snapdragon chipset in favour of its own snappy octacore Exynos 7420 processor. Supported by 3 GB RAM and up to 128 GB of storage, the S6 edge is a powerful unit.
Samsung has improved on its biometric home button: now, simply placing your thumb on the lozenge is enough to read and unlock, no need for grand sweeping gestures.
KNOX
, Samsung's enterprise grade mobile security, gets an upgrade too. And for the first time in a Samsung smartphone wireless charging is integrated, supporting all major standards. A wireless charging pad is not included, however they are increasingly inexpensive online.
The flipside of cramming all this tech into such a tight unit is the dispatch of some much appreciated features: water resistance takes a dive, expandable storage gets dropped and the removable battery is discharged. Inbuilt storage options up to 128 GB plus 115 GB of cloud courtesy of Microsoft OneDrive may satisfy some, but water resistance might be a difficult step backwards for others.
Samsung Galaxy S6 Specs at a glance:
Display: 5.1-inch Quad HD (2560×1440) Super AMOLED
Processor: 64-bit Octacore Samsung Exynos 7420 (4 x ARM Cortex A57 @ 2.1 GHz, 4 x ARM Cortex A53 @ 1.5 GHz)
Storage: 32, 64 and 128 GB options (no expansion)
RAM: 3 GB
Cameras: Rear 16 MP f/1.9 with Optical Image Stabilisation, front 5 MP
Power: Fixed 2600 mAh battery, integrated dual-mode wireless charging
Connectivity: Wi-Fi a/b/g/n/ac (2.4/5 GHz), HT80 and MIMO
Availability: The Samsung Galaxy S6 edge goes on sale on 10th April 2015.
Price: 64 GB from £760.00 inc VAT SIM free
Perhaps to compensate for the fixed battery Samsung is making much of its improved quick charging capabilities. The S6 edge, it is claimed, charges 1.5 times faster than previous S models, recouping 50% of its battery capacity with less than 30 minutes of charge, and four hours of usage from just 10 minutes.
Moving to the S6 edge's software, and the
enterprise-friendly Android Lollipop 5.0
experience is responsive, clean and uncluttered. Samsung has significantly cut back on the bloatware that has blighted previous models, the TouchWiz UI now a help rather than a hindrance. Some core Microsoft productivity apps do get bundled, and
McAfee VirusScan Mobile
integration will be welcome to many.
Finally to the imaging hardware: a 16 MP camera with optical image stabilisation and fast f/1.9 lens stands proud from the rear of the handset, while a generous 5 MP sensor with selfie-friendly 120 degree spread hides on the front. Both are accessible in 0.7 seconds flat by a double tap of the home button.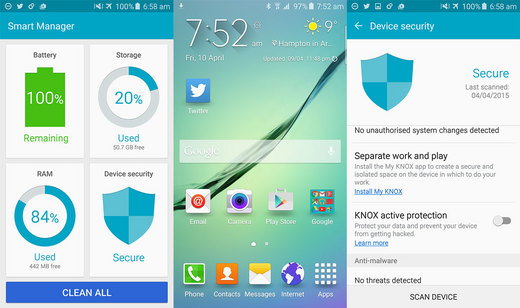 With the Samsung Galaxy S6 edge you get arguably the best-looking and best-feeling Android smartphone to date, while under the bonnet it's one of the best-performing devices too. The much-lauded edges aren't genuinely functional in a way that will significantly change how you use the phone, however they will guarantee a steady stream of admirers eager to see, touch and feel it.
If both brains and beauty are important to you then there's no better Android handset on the market right now; if looks can take a back seat then there's bags of personality both here and in the £100-cheaper, edge-less but almost identically-specified
Samsung Galaxy S6
.