Qualcomm enter the Smart TV market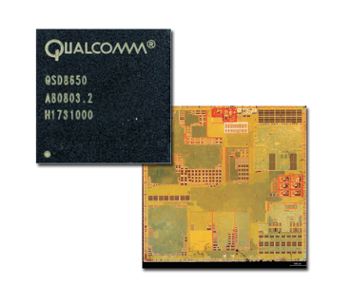 Qualcomm have announced that they will produce a Snapdragon processor for Smart TVs.
The Snapdragon smart TV experience will bring full web browsing capabilities to television, including integrated best-in-class Wi-Fi connectivity, high performance graphics and the latest Android apps and console-quality gaming experiences.
The Snapdragon S4 MPQ8064 processor features a 1.5GHz quad-core CPU-based on Qualcomm's Krait micro-architecture-Adreno 320 graphics and advanced audio/video capabilities, delivering mobile users the highest performing mobile experience while consuming less power.
The first Snapdragon powered smart TV, which is being launched by Lenovo, combines Qualcomm's mobile expertise and Lenovo's computing expertise to enable the world's first smart TV running on the Android 4.0 operating system. Qualcomm's Wi-Fi connectivity provides delivery of real-time Internet video, multi-player online gaming and local content to the television and other screens in the home.
Thousands of apps from Android Market and Lenovo Store will also be available on the big screen. Full Internet access allows users to share files between the TV and their tablet, smartphone or PC and control the TV via a tablet or smart phone.