Microsoft reveals Surface tablet pricing which matches Apple's iPad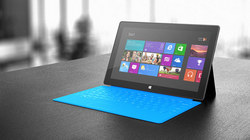 So it's official, the long-awaited Microsoft Surface Tablet will be available next week on October 26, the same day as the company's new operating system, Windows 8, is released.
Back in June, when the device was first announced, Inspect-a-Gadget got rather excited at the thought of a product which might actually be able to give Apple a run for its money. For business users in particular would benefit from more functionality on a familiar Windows platform, now fine-tuned for the touch interface.
However, today we have been told that the products will be available at a starting price of £399 – and that's for the standard 32GB RT version of Windows 8. Exactly the same starting price as the standard Apple iPad.
The white, black or cyan touch cover will also set you back another 100 quid – £109.00 if you prefer "moving keys for a more traditional typing feel." Bringing the basket spend for the surface experience up to almost £500.
On the Microsoft website, you can purchase a 32GB "with cover" for £479 and a 64GB "with cover" for £559. Underneath there are additional add-ons including the "touch cover" for £99.99.
So apart from getting more memory for you money if you go Microsoft (32GB) rather than Apple (16GB), there really isn't a massive difference in price that could attract users away from the iPad.
It's not a replacement for a desktop, it's an addition. And will companies want to fork out a whopping £500 per device, especially when many are still drawn to the "shiny, pretty, perfect" iPads?
However similar to Apple products in price, there will be no crazy queuing on Regent Street for the next week and a bit, as the UK will only be able to purchase the Surface online.
You can preorder the device if you so wish, from the Microsoft website now.