HANDS ON: Facebook Graph Search
Facebook launched its new social search function, called Graph Search, last night, and I have been lucky enough to try out the additions which the company have said are still in beta test mode.
The social network, which boasts one billion members, 240 billion photos and one trillion connections, will enable users to "naturally" search through people, photos, interests and places.
Graph Search will enable users to filter content on Facebook to find out particular things, such as which nearby restaurants their friends have liked or which friends like a certain movie, or to search for photos including selected people.
Facebook will then order answers depending on the number of "likes" or the level of a user's interaction with their chosen person, place or photograph, placing more familiar links at the top of the search results.
Dressed in his statement black zipped-up sweater (for the love of God, you're a millionaire, shell out for a checked shirt at least? No? OK), Zuckerberg stated that while Graph Search is not a web search, like Google, Facebook has partnered with Microsoft's search engine, Bing, to enable users to search the internet when Facebook fails to find an answer.
When I used Graph Search for the first time last night, Facebook provided me with a two minute tour which showed you how to type questions into the search bar. It seemed to personalise the tutorial for me, using "Cardiff University" as an example search term.
However, that's where the personalisation ingenuity stopped, for me at least.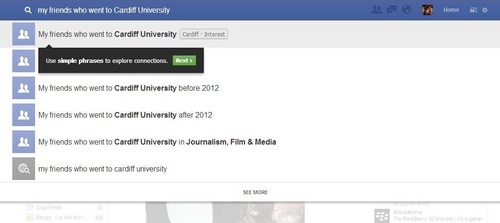 During the press conference Facebook founder, Mark Zuckerberg, and his cronies were describing different types of searches and how they had enabled Graph Search to recognise natural language. They suggested 'photos I have liked' as a search term to gather all the images you have positively engaged with.
Trying out Graph Search for the first time at about 11pm last night, I forgot the "correct" terminology and typed in 'my favourite photos'. Facebook decided to autocorrect my sentence to 'my favourite girl photos' and presented this page of rather nude women, which may I add, I haven't 'liked'.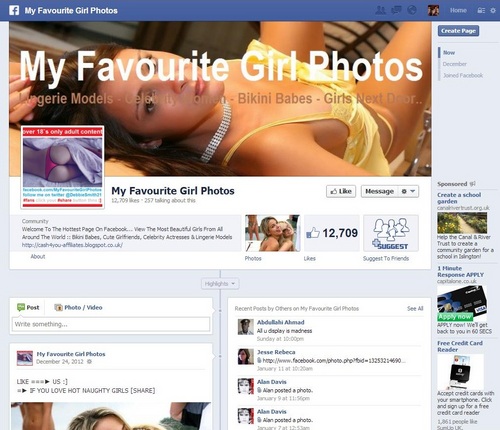 I found another couple of faults, which can only be expected in a beta test version – It seems that my best friend who lives in Bangor, North Wales, lives in Cardiff, because any Cardiff filters I put in she pops straight up.
I can see this going down particularly well with users who wish to check out single men and women. Just type in 'single friends of friends who live in London' and friends of friends who have publicly shared their relationship status will appear as the results. Maybe if everyone everyone knows is taken, Bing will direct you to Match.com?
While the tech industry generally seems underwhelmed with the added functionality, it will be interesting to see how small businesses may be able to explore their customers' likes and dislikes and target advertising at them. For instance if a user has liked a bar, it will be interesting to see if the bar can then go ahead and filter, finding that user to like a particular cocktail or cuisine, then pointing out special offers to them which will in theory be more attractive to the customer.
Zuckerberg kept a quite tight-lipped on using Graph Search for business, avoiding questions, but answering in regards to existing sponsored advertisements on Facebook:
"You build good businesses over time, by people wanting to use something," said Zuckerberg. "Sponsored ads extend quite nicely to Graph Search, but there is nothing new for this."
I predict that Facebook users will not mind the inclusion of Graph Search in general. It's not a redesign of the site, which is when users usually get up in arms about scandalous changes to their ever-so-familiar pages… for about two days.

The search bar will feature at the top of Facebook on the blue bar, with the home button moved over to the right. Facebook users do like complaining though, so they might kick up a bit of a fuss, until they realise the power of the Graph Search functionality to increase stalking by 600%.
Still in beta, Graph Search will be rolled out to a "very small audience" from 16 January. The company will collect feedback from users before rolling out to a wider audience. Graph Search will also go through tests before being available on mobile devices.