Freebox v6 Revolution: Web, HD games, Blu Ray and TV -Can it do everything?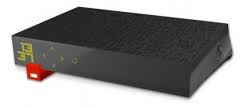 French Internet Service Provider (ISP) Free has unveiled the first ever High Definition (HD) games for television set-top boxes as part of its Freebox v6 Revolution product launch.
Designed by respected product designer Philippe Starck, it marks a significant step forward in the development of smart TV. Free subscribers will now be able to download HD games which offer similar quality to those available on games consoles sold commercially.
Gameloft, the worldwide leader in developing and publishing downloadable video games and who collaborated with Free on the new set-top box, described the experience as somewhere between the Wii and PS3 due to the contoller and the motion-sensing remote.
The Freebox v6 Revolution is the latest in a series of new 'smart TV' products powered by the Intel® Atom™ processor CE4100, which is credited by Free as providing four times the performance of the next-best processor available at the time.
There are currently five games available, all offering online multiplayer mode:
UNO™ – a card game
Let's golf! 2 – one of the most widely sold golf games
Asphalt 5 – racing game
Real Football 2011 – soccer simulation game
N.O.V.A. (Near Orbit Vanguard Alliance) – voted best action game of the year
The games will be directly available for the Freebox v6 Revolution by downloading from the Freestore and cost between EUR 4.99 and EUR 6.99, depending on the game. Other games will eventually be added to the catalogue including titles such as Modern Combat: Domination, Hero of Sparta 2 and Brain Challenge.
Here's a collection of videos showcasing the new Freebox v6 Revolution. Smart TV is redefining television as we know it. To keep up-to-date on the latest smart TV news and trends, follow the Intel smart TV team on twitter and facebook. If you want to learn more about smart TV, check out this video.