Could programmable robots teach kids to code?
With the pending changes to the IT curriculum steadily approaching, teachers are learning how best to teach children how to code.
In September of this year, schools in the UK will be required to teach children from the ages of five to 16 how to 'computing' rather than ICT, making the required subject content of lessons less about business processes and more about software engineering.
However, there are a lot of misconceptions around the kind of person who codes, and what it takes to teach this complex subject.
British Entrepreneur Ben Pirt believes that the use of robots will not only aid teachers in the learning process, but also help children to better engage with and understand the process of coding.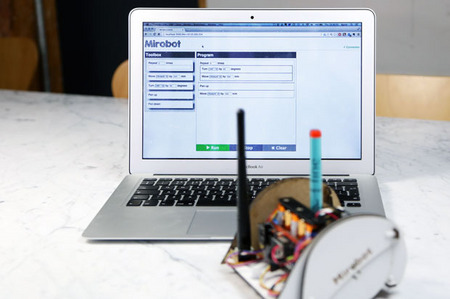 Pirt's Kickstarter campaign for a build-it-yourself wifi robot kit, called Mirobot, was fully funded one week after launching, and with a couple of weeks still left is now 300% funded. Both the software and the hardware is opened source.
Pirt hopes that Mirobot will help and encourage children to learn about coding and engineering as it brings the on-screen and physical aspects of software and hardware engineering together in front of the child's eyes as they use code to manipulate the robot's movements
Pirt says: "My aim is to get Mirobot into the hands of as many children as possible. I want to help children understand how the technology surrounding them actually works. Kickstarter is Mirobot's first outing and has shown that there is a great deal of interest in using simple robotics kits like this to engage the next generation."
Pirt hopes that Mirobots will start shipping in September, and will include educational support material to help teacher's to fully utilise them in the classroom.