Apple sums up its iPad add-ons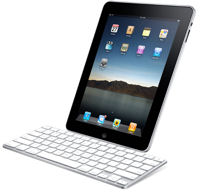 Prices for Apple's add-ons for the iPad are starting to appear. These will be supplemented with other third-party products nearer the slate's release date.
The basic unit comes without a physical keyboard. If you want to type anything in, rather than peck at the on-screen keyboard, you'll have to spend an extra $69 (£43) for a Keyboard Dock. The unit holds the iPad upright, recharges the unit, provides an audio output socket and replicates the Apple connector socket thatit uses on the iPad to allow other add-ons to be used simultaneously.
These add-ons include the Camera Connection Kit ($29) which appears to comprise two memory card readers. There is also a VGA (not HDMI) connector for an external monitor ($29) but sound output will have to be taken from the headphone socket on the iPad or just using the inbuilt speakers.
A few reviewers have pointed out that the problem with slates is that their screens are vulnerable to damage as they are carried around. Apple's answer is an inexpensive case ($39) that will also hold the iPad upright or slope it to make it easier to type on the virtual keyboard. No doubt, third parties will appear with cases that also accommodate the Keyboard Dock and cable accessories.