Amazon Fire smartphone - do we really need 3D?
This week the first smartphone designed by online retail giant Amazon was revealed, and its Dynamic Perspective feature allows the screen to present images in 3D to the user based upon the position of their heads. The question is whether or not this is what people actually want or need.
The Dynamic Perspective feature, which uses four front-facing cameras and infra-red LEDs all built into the screen of the phone, allows the device to perform functions such as automatic scrolling to prevent users from having to touch the screen, and screen tilt depending on the user's head position.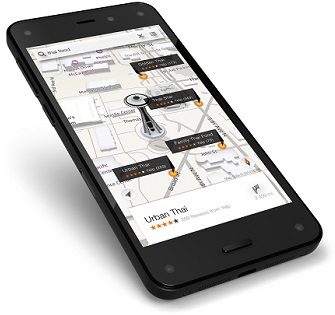 Photo: Amazon.com
Although these things may improve user experience, my main concern would be the feeling that you're being watched, as the phone monitors you to ensure that you are fully immersed in any activities you are taking part in, such as watching videos or playing games.
Perhaps more worrying, then, is the never-before-seen Firefly feature, which uses data that Amazon has collected on physical items, text, audio and text and audio recognition in order to allow users to scan products barcodes or QR codes in order to search on Amazon to allow purchases from its online store.
This also works for TV programs or songs; Firefly will recognise things in the environment around you and allow you to buy it right then and there through the Amazon store. All through the touch of the built in Firefly button.
Specs at a glance:
Amazon Fire
• Processor: Quad-core Qualcomm Snapdragon 2.2 GHz
• Memory: 2GB RAM
• Display: 4.7-inch HD
• Camera: 13MP rear-facing camera, 2.1MP front-facing camera.
Whether consumers will see this as a genius invention or a ploy to make them spend more hard earned cash where it counts has yet to be seen, but its other feature – the Mayday button – is similar to that on the Kindle Fire and allows the user to video chat with a helpline whenever they need assistance with the device, which contributes to a good consumer experience.
The device will be available in the US by the end of July, exclusively on AT&T, at a starting price of $199.