Free Wi-Fi isn't worth the risk...
Troels Oerting, the head of Europol's cybercrime division told viewers of BBC's Click that they shouldn't use free Wi-Fi for sending secure data such as when they log into an online bank, to avoid being attacked by hackers. A hacking attack would be the least of your worries if you happened to live near a former colleague. He once threatened his neighbours with extreme violence after he found out they were surfing on his home WiFi. Be afraid…be very afraid.

Download this free guide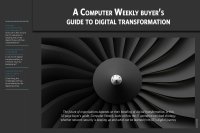 Computer Weekly's buyer's guide to digital transformation
Download this 14 page buyer's guide to discover how the IT operation can lead strategy, whether network security is keeping up and what can be learned from GE's digital journey.