Dad dancer Ballmer dirty dances from the Microsoft stage - and we have the photo to prove it
Outgoing Microsoft CEO Steve Ballmer is well known for his dad dancing – but at his farewell company meeting in Seattle he revealed a previously unknown love of dirty dancing.
As reported by The Verge, Ballmer chose a karaoke theme for his goodbye speech, starting off with Michael Jackson's Wanna be startin' something – apparently the song played at the first Microsoft company meeting in 1983.
But, showman that he is, Ballmer left the best until last. He left the stage with tears in his eyes, to the tune of Bill Medley and Jennifer Warnes singing I've had the time of my life, the theme from the movie Dirty Dancing.
Downtime can exclusively reveal that Uncle Fester lookalike Ballmer went one step – or leap – further, re-enacting the most famous scene from the movie when Jennifer Grey's character Baby leaps high into the upstretched arms of Patrick Swayze's Johnny for the climax of their dance routine. And what's more, we have the photo to prove it: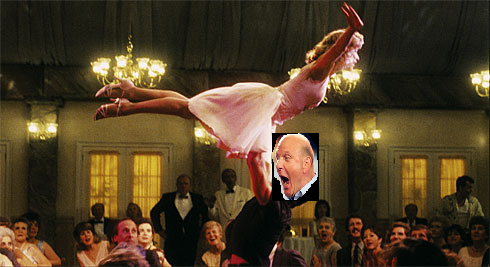 Everyone here at Downtime salutes you Steve – we're going to miss you.
(Photo editing courtesy of Microsoft software)