Chinese techie caught in illicit porn cock up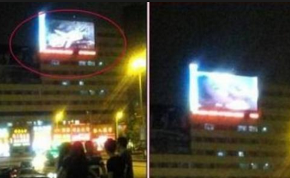 New golden rule for techies: be careful where you plug yourself in. Failure to heed this rule, could lead to becoming unplugged or at the very least unstuck.
The case is perfectly illustrated by a Chinese techie who unwittingly shared his proclivity for banned adult videos with everyone in the main square and adjacent railway station in Jilin.
The techie was meant to be repairing a giant LED screen, but appears to have forgotten he was connected to the display when he took a break.
Only after 10 full minutes, did he realise that he was not the only one viewing the illicit film, the title of which translates in English as: The Forbidden Legend: Sex and Chopsticks, according to the
BBC
.
The Hong Kong produced film is based on the 17th Century Chinese novel The Plum in the Golden Vase, which
Wikipedia
notes has same level of notoriety in Chinese literature as Lady Chatterley's Lover.
When the hapless techie, identified as Yuan Mou by Chinese media, was alerted by the owners of the giant display about his unintended broadcast, he unplugged his computer and threw away the disc.
But thanks to the wonders of modern technology, photos of his blunder spread quickly after several passers-by posted them online.