Blackpool donkeys saddle up for contactless payments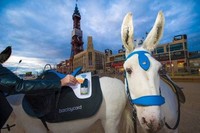 A few years back, donkeys in Israel were made to don Wi-Fi enabled collars to allow riders to check emails while enjoying the views. Well now the famous donkey rides of Blackpool are accepting contactless payments from tech-savvy tourists.
Mark Ineson, owner of Real Donkeys, claimed that a lot of beach-goers don't carry cash, and often had to disappoint their children as they were unable to pay.
So Ineson approached Barclaycard for a solution, and provided Dillon the donkey with a contactless-payment enabled saddle.
When asked what he thought about the innovation, the donkey claimed it was much more efficient as PINs and cash can be a pain in the ass.
Image: Barclaycard