It is not unheard of for an American president to have trouble with his grammar, but surely if you are hoping to be the president of one of the world's super-powers good spelling should be a necessary skill?
Not so, it seems, as Republican presidential hopeful, Mitt Romney, has demonstrated with his iPhone app.
What should have been an inspiring message to show his party and his leadership would make to a better tomorrow for citizens, became a catastrophic spelling fauxpas of the most important word for any US politician.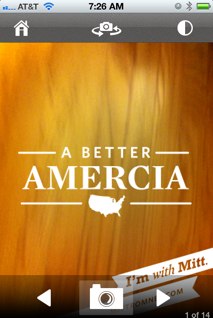 (Credit: Screenshot by Don Reisinger/CNET)
Spotted the mistake yet?
Well, all of us at Computer Weekly would like to say God Bless Amercia…