Mobile and cloud adoption is accelerating - don't miss out
With 90,000 people attending this year, Mobile World Congress has become one of the definitive events on the technology calendar. Nobody is surprised to hear experts saying mobile is the number one issue – and the same applies to corporate IT.
Computer Weekly's annual survey of our readers' IT spending priorities shows that mobility has leaped to be the top priority for IT leaders with 42% of respondents implementing mobility projects this year – well ahead of the second placed issue, compliance at 31% (see graph, below). As recently as 2012, mobility didn't even feature in the top 10 IT spending priorities.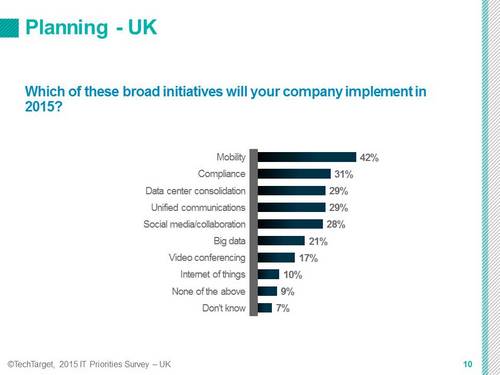 As mobility has risen, so has cloud. In our latest survey, for the first time more organisations are increasing spending on cloud than for on-premises IT – a significant milestone. In 2012, the research described IT leaders' cloud plans only as "modest and moderate".
But tracking the survey over the last three years shows not only that mobility and cloud have risen naturally to the top, but they are accelerating at the expense of almost every other category of spending. The strategic shift to mobile and cloud in corporate IT is really happening, and is now unstoppable.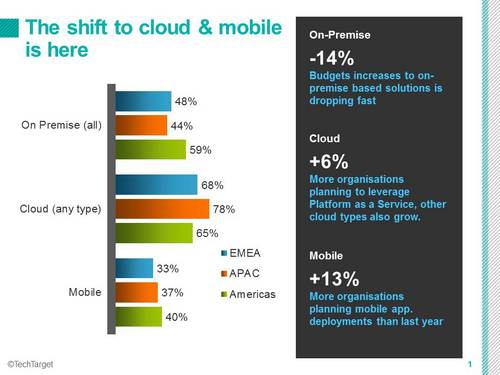 Slicing into the survey data also shows a notable fact – demonstrated in the graph below. If you look at readers' responses on technologies typically associated with digital transformation – areas such as collaboration, big data, social media and virtualisation – you see there is a significantly higher tendency for spending in such product categories among those companies also prioritising cloud.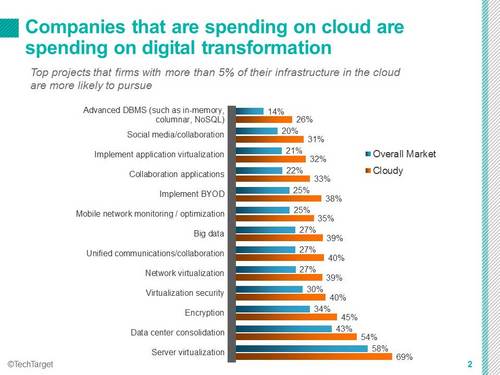 Cloud is not just a major shift in IT delivery, it is a signifier of greater intent to transform the IT estate using emerging technologies. For IT suppliers, that's hugely significant. If they are not having the cloud conversation with their customers – or are simply tagging a "cloud" label onto their existing products – they are missing out on nearly every other major IT change taking place at that organisation.
For companies such as IBM, HP and others, desperately trying to protect revenues from legacy products and unable to grow sales from emerging technologies sufficiently fast to replace them, that's a huge problem. Who would seriously have thought five years ago that Amazon would become the dominant force in cloud, at the expense of such bellwethers?
For those IT leaders whose employers are still reluctant to invest in mobile and cloud, it may soon be too late – their competitors are changing the game at an accelerating pace.