Introducing our guest blogger, Tom Ilube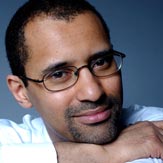 ComputerWeekly.com is happy to introduce to you our guest blogger, Tom Ilube, who'll be posting us some views from Silicon Valley, where he's currently attending Innovation 100 at Stanford. The Innovation 100 event, part of the World Economic Forum's Geography of Innovation programme, is a gathering global business and academic leaders, who'll be exploring some of the the hottest innovation questions in a creative and nonpartisan setting.
Who is Tom?
Tom Ilube is Chief Executive Officer of Garlik, a consumer company pioneering a range of services to help give people real power over their personal information in the digital world, using ground breaking semantic web technology. In January 2008, Garlik was selected as a World Economic Forum, Davos, Technology Pioneer, hence Tom's involvement with Innovation 100.