Computer Weekly's IT Salary Checker goes live!
Ever wondered if your salary stands up against the national average?
With the Computer Weekly IT Salary Checker you can to see if you should be banging on your boss' door (not advisable) or keeping your smirk to yourself.
Simply enter your details in the fields and click the search button, it's that easy. You can even alter the fields to see what you could be earning if you used different software packages.
Also if you have a website, blog etc. you can embed and share.
Simply click on 'Get & Share' and then click 'Copy Code' and drop it into your site to embed the widget.
Content Continues Below

Download this free guide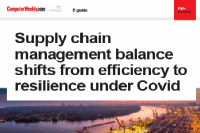 Supply chain management balance shifts from efficiency to resilience under Covid
This e-guide explores these matters, beginning with a comprehensive article that ranges over supply chain management, from a macro level through how trading platforms have been flexed to switch suppliers rapidly down to how robots have been quickly deployed to solve problems of scale.