Computer Weekly's IT Salary Checker goes live!
Ever wondered if your salary stands up against the national average?
With the Computer Weekly IT Salary Checker you can to see if you should be banging on your boss' door (not advisable) or keeping your smirk to yourself.

Download this free guide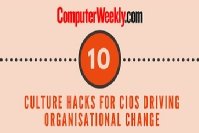 Infographic: 10 culture hacks for CIOs driving organisational change
Download this infographic and discover ten extremely simple culture hacks CIOs can use to drive organisational change and improve business outcomes. These tips were provided by Kristin Moyer, vice president and analyst at Gartner at the Gartner Symposium 2018.
Simply enter your details in the fields and click the search button, it's that easy. You can even alter the fields to see what you could be earning if you used different software packages.
Also if you have a website, blog etc. you can embed and share.
Simply click on 'Get & Share' and then click 'Copy Code' and drop it into your site to embed the widget.