Computer Weekly's IT Salary Checker goes live!
Ever wondered if your salary stands up against the national average?
With the Computer Weekly IT Salary Checker you can to see if you should be banging on your boss' door (not advisable) or keeping your smirk to yourself.
Simply enter your details in the fields and click the search button, it's that easy. You can even alter the fields to see what you could be earning if you used different software packages.
Also if you have a website, blog etc. you can embed and share.
Simply click on 'Get & Share' and then click 'Copy Code' and drop it into your site to embed the widget.

Download this free guide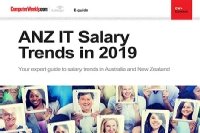 ANZ IT Salary Trends in 2019
Here you can find everything about the IT salary trends in ANZ, including the perks that will keep IT workers in their jobs, the most sought-after roles in the sector, as well as the state of workforce diversity in IT departments across the two countries.