Best of the blogs: Computer Weekly launches its first IT Blog Awards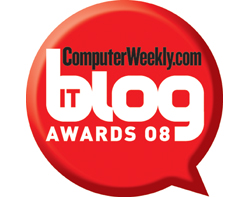 Reading this blog? Read others too? Comment on some? Or perhaps you blog yourself? Well, ComputerWeekly.com is searching for the best blogs from and about the UK industry, and to do that, we need your help.
Whether you're a blogger, a commenter, or just a reader, we want to know what blogs are in your favourites folder, or have got you hitting the subscribe button in your RSS reader. Just email [email protected] with the URLs of your nominations, or visit our Blog Awards web page for more information, and a full list of the categories.
You can even nominate your own blog. And everyone who sends in a nomination will be entered into our prize draw for a £50 Amazon voucher. (Don't worry, we won't use your email address for anything else, only to contact you should you win.)
However, if you're still not convinced by this whole blogging business, take a few minutes to watch this video from CommonCraft: Blogs in Plain English (over the jump). It may not convince you to browse the blogs, but you'll understand why others do – and if you remember Fingerbobs, you'll love the homespun approach to animation, too!