Revealed: IT spending plans in 2013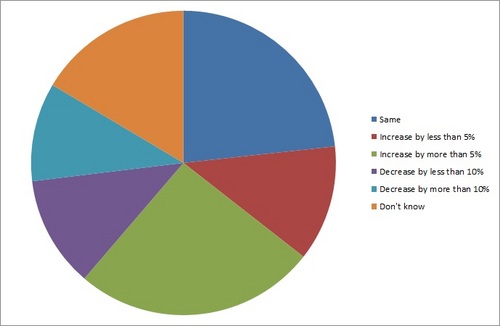 (Click on the image to enlarge)
More than
half of the organisations polled in the UK and Europe will see their IT budgets
remaining the same or increasing in 2013, despite the difficult state of the
economy. Computer Weekly and TechTarget's 2013 IT priorities survey, which
polled over 800 IT professionals in Europe, shows that over a quarter (26%)
expect their IT budgets to rise by more than 5%, while 12% are expecting their
budgets to grow by less than 5%. Another
quarter – some 23% – expect their IT
budgets to remain the same. Around 22% expect their IT budgets to reduce, with
10% expecting a reduction of more than 10% in their budgets, while 12% are
expecting a reduction of less than 10%.
This may not be all bad news, however, as many organisations are reaping the
benefits of lower IT costs following investments in cloud computing and virtualisation.
This is a preview of our 2013 IT priorities research. You can read our 2012 IT
priorities report here.
Normal
0
false
false
false
EN-US
X-NONE
X-NONE
/* Style Definitions */
table.MsoNormalTable
{mso-style-name:"Table Normal";
mso-tstyle-rowband-size:0;
mso-tstyle-colband-size:0;
mso-style-noshow:yes;
mso-style-priority:99;
mso-style-parent:"";
mso-padding-alt:0in 5.4pt 0in 5.4pt;
mso-para-margin-top:0in;
mso-para-margin-right:0in;
mso-para-margin-bottom:10.0pt;
mso-para-margin-left:0in;
line-height:115%;
mso-pagination:widow-orphan;
font-size:11.0pt;
font-family:"Calibri","sans-serif";
mso-ascii-font-family:Calibri;
mso-ascii-theme-font:minor-latin;
mso-hansi-font-family:Calibri;
mso-hansi-theme-font:minor-latin;
mso-bidi-font-family:"Times New Roman";
mso-bidi-theme-font:minor-bidi;}