The twelve names of Christmas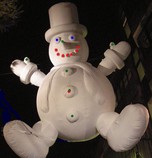 An editorial mandate demands festive blogology so here is a mix of alternative names for the holiday period mixed in with most detested business expressions of 2007.
On the:
First day of Christmas my true love touched base with me.
Second day of Yuletide we were thinking out of the box.
Third day of Chrismukkah we were still going forward.
Fourth day of Festivus it was all heads up.
Fifth day of Crimbo we were out of the loop.
Sixth day of Noël back to customer facing.
Seventh day of Navidad we were top of the game.
Eighth day of Christes Maesse we were blue sky thinking.
Ninth day of Xmas singing from the same hymn sheet.
Tenth day of the Solstice we were out of the box.
Eleventh day of Crimble the credit crunch had hit.
Twelfth day of Winterval it was the end of the day.
Happy and Proposterous New Year everyone!