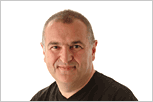 I've have never attended a big Microsoft conference before, after many years of attending Lotusphere it will be quite an experience for me to attend the European TechEd in seven days time. Barcelona will give me a chance to compare the spirit of the MS community with my buddies from the Notes space and report on the difference – if any.
Back in the late 90's IBM held three Lotuspheres in Europe but for its own reasons lost the desire to engage with its EMEA supporters and customers in such a direct manner.
Microsoft has stuck with its European offering and as a result I will get both the chance to be a 'stand dolly', sheep dip in some of the technology and hopefully provide a daily blog as a wide eyed TechEd debutante in a week from now.
I am pressing my chinos right now, so they better start mixing up the Sangria !
Olé