Self-sufficiency leads to decline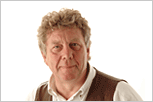 Historically, and this goes back to the Romans, self-sufficiency leads to decline. Being able to support yourself, noble though that seems, is not a social advancement but a step backwards leading to isolationism – commerce means that people have to interconnect and rely on each other – in other words collaboration is the way out of the current malaise.
If you are entrenching and putting up the barriers it 's the wrong strategy. We need to be doing business with each other in whatever way we can.