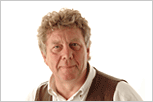 The old adage "Careful how you treat people on the way up, you might meet them on the way down," was brought home last night by a story told by someone who was stuck on a train with two media alpha presenters (one was a woman) – both were, in the past, supporters of New Labour.
A certain Prime Minister stymied pet projects of them both on his way up the greasy pole. They are now actively seeking his demise.
The moral of the tale for us collaborationists – Keep your friends close but your enemies closer.