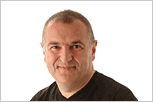 Ok, so I am not taking a London 'Routemaster' bus, but like Cliff and the Shads I am off on my 'Summer Holiday'.
In a similar vein to Cliff I will be avoiding the Autoroute (as much as possible) on my voyage south.
In my absence Mickey Two-Names will be the principle contributor. However as I am a web tart (as opposed to a pop tart) I will be both visiting the site and occasionally interjecting with distinctly French biased blogs (is that
les blogges?
).
I am off now,as a Canadian once beautifully described to me in cod French, to 'frappe la route'