Gordon's Digital Industry Initiative # 7 - Problems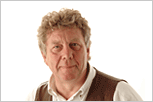 In the Observer Business Supplement I read that BT's investment in plans to build a new super-fast broadband is in jeopardy. Lets' hope that this is not the first nail in the Digital Industry coffin.
With digital infrastructure vital for our economic development, is this another area where HMG will have to intervene?