Gordon's Digital Industry Initiative # 6 - Talent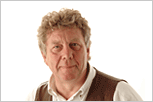 The PM's desire to invest in Digital Industries means finding people with the talents to run them. Following the short-lived 'Government of all the Talents' initiative, exceptional ability seems to be in short supply. We now know that the City's claim that you need: to pay top-salaries to get the top-talent to the top-table was a top-heavy claim in a topsy turvy world means you don't get what you paid for – probatory, prudence and providence – but rather a bunch of well-healed spivs.
What you need to run Digital Industires are hybrid managers that can act as "corporate middleware" and mediate between the two communities of technolgy and business. These are rare – I've only met a few in my life. Lets hope we don't end up with a load of overpaid Apparachniks.