Gordon's Digital Industry Initiative # 1 Digital Instincts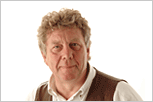 Three questions come out of the Prime Minister's Digital Initiative. 1) What is the viability of the digital sector in these straightened times? 2) Will the Government be suggesting new tax incentives to promote digital development? 3) How can start-ups get access to a national pool of venture capital when money is tight?
Collaboration is one of the easiest digital disciplines to show a high ROI. Not only does it have a 'green' impact but used right ,it is both innovative and productive. Collaboration's greatest barriers to entry is people's stubborn resistance to 'get it'. Collaborative enterprises require a change in working practices as profound as those of the industrial revolution. It is this area that HMG needs to focus its attention.
Making this initiative work requires bold and brave investment. As failure to embrace the transition will leave us marooned as conventional industries have all but gone or migrated to cheaper locations.