From the Gulag to T3 Hell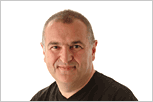 Over the last few weeks I have had the dubious pleasure of travelling from the UK through the last vestige of BA in Terminal 1 – a veritable gulag for the unfortunates who have to travel or work in this area.
Today this was easily outshone(?) as I travelled through Terminal 3.
After passing through security you are deposited in a over-cramped retail outlet which would make Sam Walton blush. Hot, crowded and deeply unpleasant.
Not recommended for the frequent traveller.
Terminal 5 – I love you