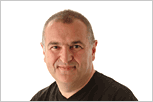 It was rather sad to realise last evening that this blog had been removed from the aggregation feed from the ever excellent planetlotus.org,
It appears that my recent posts are 'not something that fits into the planet 'Lotus" concept' as they had been too Microsoft centric (well they are a bit, but no more quizzical of IBM than before I joined my current employer) – whatever happened to the First Amendment?
Maybe certain parts of the Lotus community are a bit 'thin skinned' but I do hope those who have enjoyed reading my views on Collaboration will continue to do so via RSSing this feed.
I am curious if the post that triggered the ASBO 2.0 is as damning that my judge, jury and executioner obviously considered. Your views welcome.