Chairman Mao's little red Facebook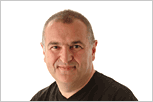 In an interesting coda to yesterday's blog
'the Benefits of lock-in
" I have noticed today that Facebook is imposing its new layout on 100,000,000 users.
Of course this has caused howls of protest but in balance I am with Facebook on this. In the SaaS world one motto could be '
stick to one environment and get it right'
.
It may seem to be a bit 'Centreist' but everything in our lives has to evolve, sometimes the results thrive, sometimes they die.