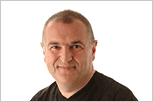 For those of you interested in IBM's Lotus technology (and those of you think you ought to be) a rare opportunity is presenting itself right now.
As part of the Lotusphere come to you (yes you) global event program, IBM UK is holding one of its two gigs in Wembley stadium in two weeks time. A little birdie has told me that those of you who can get there (and you better hurry because space is filling up fast) will have an opportunity of a behind the scenes tour. And the whole thing does not cost ! – It may be on April the 1st (and 3rd in Manchester) but this is not a gig for fools
So check out the landing page before the doors close.

For those of you truly into 'collaboration' then I recommend that you take a day out to be briefed on what IBM is setting out to be the future of virtual teaming.
This event will be better than the last event I was at at Wembley (England v Croatia) – frankly it can't be any worse!