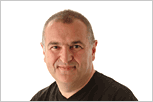 It is Bill's last day at Microsoft tomorrow. The BBC has negotiated (over two years it is rumoured) an exclusive with Mr Gates on the long established Money Programme.
Love or loathe him we cannot ignore him, it will make interesting watching, it better not be too sycophantic. It would be nice if it is available on BBC World as well as BBC 2. I am sure it will pop up somewhere on the Interweb – oh and yes
Top Gear
is about to start again, this Sunday!
Maybe Jeremy Clarkson will get Bill into a 'Star in reasonably priced car' in an episode?