Ian White – Technical Solution Professional, Western Europe – Microsoft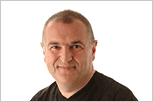 Every since 1989 Ian has been an active advocate of collaborative technology through his association with Lotus. Starting with cc:Mail he became the second UK partner for Lotus Notes in 1991.
Ian has been at the helm of his own Business Partner company and worked for both Danish and South African corporations delivering solutions built on cc:Mail, Notes, Domino, Groove and today's Web based emerging technologies.
Over the last decade Ian has worked with both IBM and Microsoft to promote the use of collaborative technology to end users.
Since October 2008 Ian has been working across Western Europe for Microsoft (this excludes UK, France and Germany for historic reasons) promoting the benefits of using MS Office Groove for collaboration and more recently has added Visio to his portfolio.
Ian has previously presented at Lotusphere Europe and US and was a founder of the cc:Mail User group and been a trustee of the original Notes User group in the UK.
Ian is passionate believer in the benefits of effectively used collaborative technology and is using this blog to promote this.
Additionally Ian White consults in the UK for Elastictime and Lincoln Burnett