Microsoft Patch Tuesday Update - 14th December 2010
With this week's Microsoft Patch Tuesday update, we see the largest collection of updates ever delivered by Microsoft in a single Patch Tuesday release with 17 updates having the following rating; 2 Critical, 14 Important and 1 Moderate. Aside from the significant number of Security and Application updates with this Patch Tuesday release cycle, we see a moderate number of issues affecting a small number of applications. The ChangeBASE team recommends a particular focus on the Microsoft Security Update MS10-106 as it raised a significant number of issues on the AOK sample server platform portfolio.
Here is a sample of the results for one application and a summary of the Patch Tuesday results for one of our AOK Sample databases:
MS10-105 Vulnerabilities in Microsoft Office Graphics Filters Could Allow for Remote Code Execution


And here is a sample AOK Summary report for a sample database where the AOK Patch Impact team has run the latest Microsoft Updates against a small application portfolio: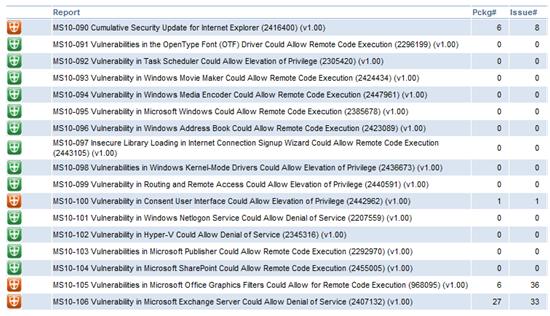 You can read a full analysis of the AOK Patch Impact Testing Summary here.