Microsoft Patch Tuesday: 13th July 2010
With this July Microsoft Patch Tuesday Security Update, we see a moderate number of security updates with 4 updates to Windows XP, Windows 7 and Office, including three updates rated as 'Critical' and one rated as 'Important'. Unfortunately, all patched released this month will most likely require a reboot of the target system. In addition, all of these Microsoft Security Updates relate to Remote Code Execution vulnerabilities.
The ChangeBase AOK Patch Impact team has updated the sample application database to now more than 2000 unique application packages. All of the applications in this large sample application portfolio are analysed for application level conflicts with Microsoft Security Updates and potential dependencies.
Based on the results of our AOK Application Compatibility Lab, only one of the July Patch Tuesday updates is likely to require significant application level testing;
· MS10-044 Vulnerabilities in Windows Kernel-Mode Drivers Could Allow Elevation of Privilege
We have included a brief snap-shot of some of the results from our AOK Software that demonstrates some of the potential impacts on the OSP application package with the following image:

In addition to this high level summary, we have also included a small sample of one of the AOK Summary reports from a smaller sample database;

Microsoft Patch Tuesday Update Testing Summary

MS10-042 Cumulative Security Update of ActiveX Kill Bits
MS10-043 Cumulative Security Update for Internet Explorer
MS10-044 Vulnerabilities in Windows Kernel-Mode Drivers Could Allow Elevation of Privilege
MS10-045 Vulnerabilities in Microsoft SharePoint Could Allow Elevation of Privilege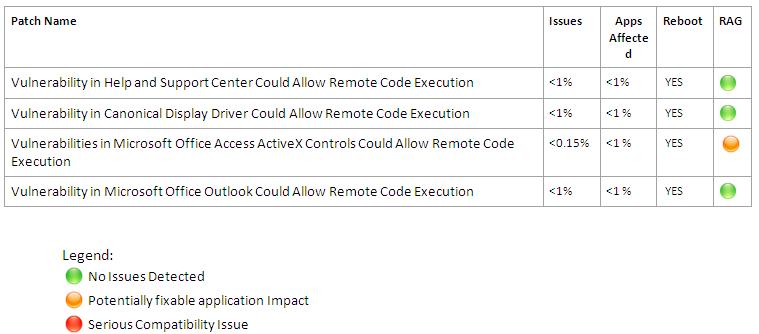 Security Update Detailed Summary