What is your Agile development Jedi Rank?
Tis almost the season to be jolly — so why not find out your Agile development Jedi Rank?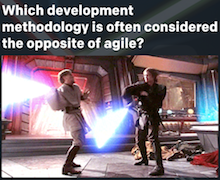 SmartBear Software has provided a suitably diverting online quiz here to allow you to work through the major principles of Agile and see how you would fare in a Star Wars centric environment with the skills you already have.
Clue: you'll need to know a bit about waterfall and Kanban to complete this quiz.
As a company, SmartBear specialises in tools for collaborative development, functional testing, performance testing and performance monitoring across APIs, mobile, web and desktop.
Disclosure: your blog author scored a 'reasonable' 76%.