Sennheiser plugs into Cisco Developer Network
Think back 10 or even 15 years and the technology newswires were alight with news of DECT, Unified Comms & new PBX technologies, all of which were designed to push a new envelope in telephony and communications and change the way we enjoyed crystal clear voice and sound over the airwaves.
Since that time we may have all become too preoccupied with VoIP, handset operating systems and open source contenders to the proprietary behemoths in the telephony industry to pay enough attention to the ground level work still being carried out.
Well, that and wondering when Microsoft is going to sort out Windows Phone 7 at least!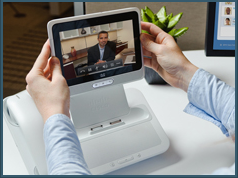 Anyway, darling of the quality headset market Sennheiser however is still with us and its interesting to note that manufacturers like this are pushing to extend compatibility with their products outward to the latest IP phone ranges.
As such, Sennheiser Communications has just announced that it has joined the Cisco Developer Network as in the Unified Communications technology category. In line with this, the company has completed interoperability verification testing its latest wireless DECT headset product with Cisco's IP Phones and IP Communicator 7.0.3.
Sennheiser's official statement on the news says that, "The Cisco Developer Network unites Cisco with third-party developers of hardware and software to deliver tested interoperable solutions to joint customers. With offerings such as DW Office headsets, customers can more quickly deploy a broad range of Cisco compatible business applications, devices, or services that can enhance the capabilities, performance, and management of their Cisco network."
We hear so much today about interoperability at the software level from a developer/programmer perspective, it's quite refreshing to pick up on some hardware-driven software-related developer interoperability.
Don't you think?